7 signs you need (the right) risk management software

Caleb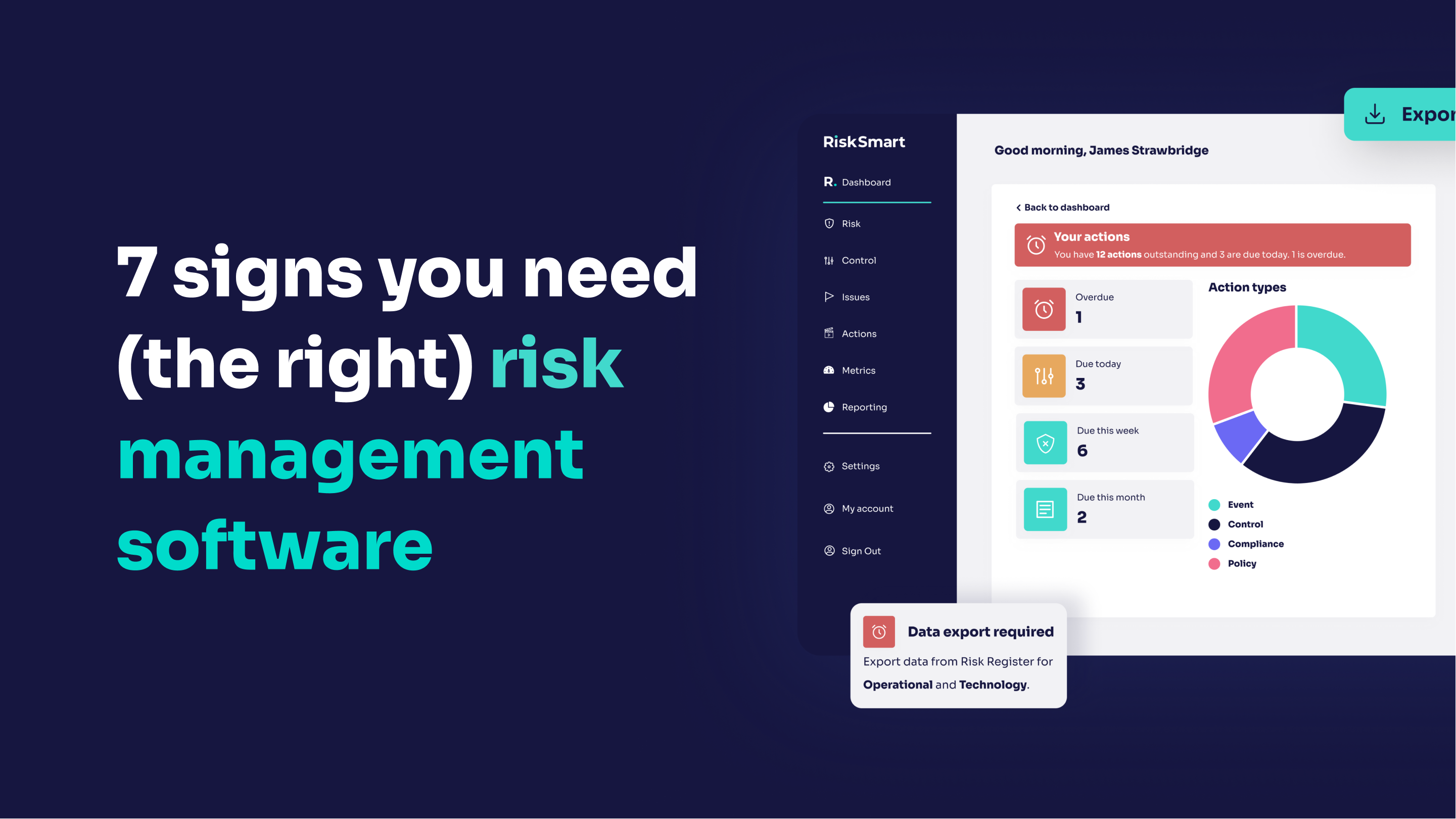 You're looking to move away from spreadsheets, right?
You wouldn't be alone. Post-pandemic, seven out of ten boards say they're looking to invest more heavily into risk management software (RMS).
Or maybe you're just wanting to learn a little more. Your current risk processes are serving you well enough, even if they're a bit overstuffed.
Either way, you're in the right place. We understand your curiosity. Enterprise risk management software is typically seen as the natural evolution for risk teams wanting to up their game.
We've pulled together seven signs that it's time to adopt the right risk management software for your needs.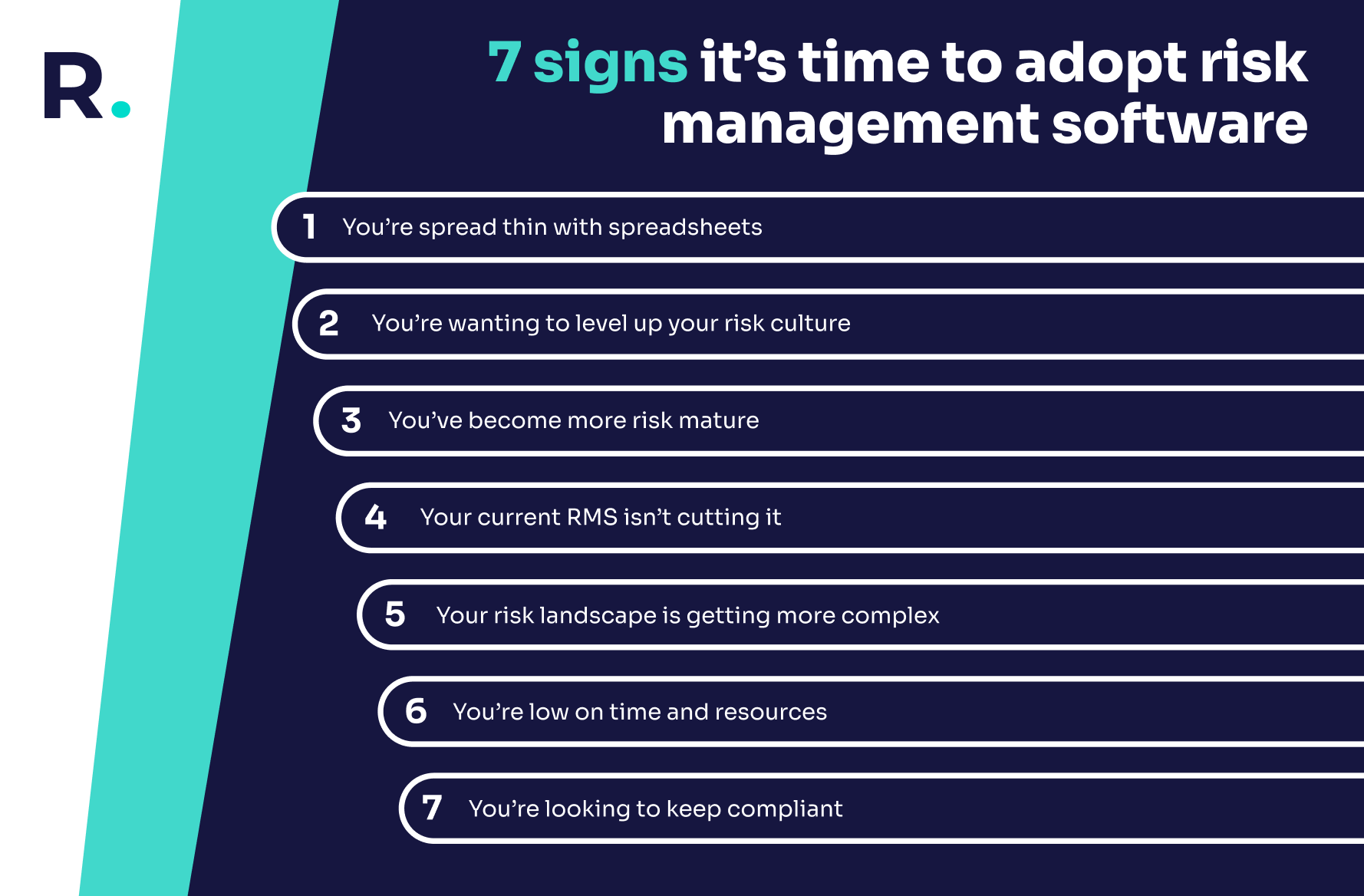 1. You're spread thin with spreadsheets
Let's start simple.
Spreadsheets serve a purpose. In the United States, over 730,000 businesses use Excel. We're not here to say that's wrong – even for risk and compliance teams.
They're the go-to choice. Especially for businesses that are risk immature and taking the first steps on their GRC journeys.
But there are downsides to using spreadsheets, both apparent and surprising, that you won't find in most enterprise risk management software.
You might know by now that 88% are thought to contain mistakes, but you'll see inefficiencies before you've even started creating your spreadsheet.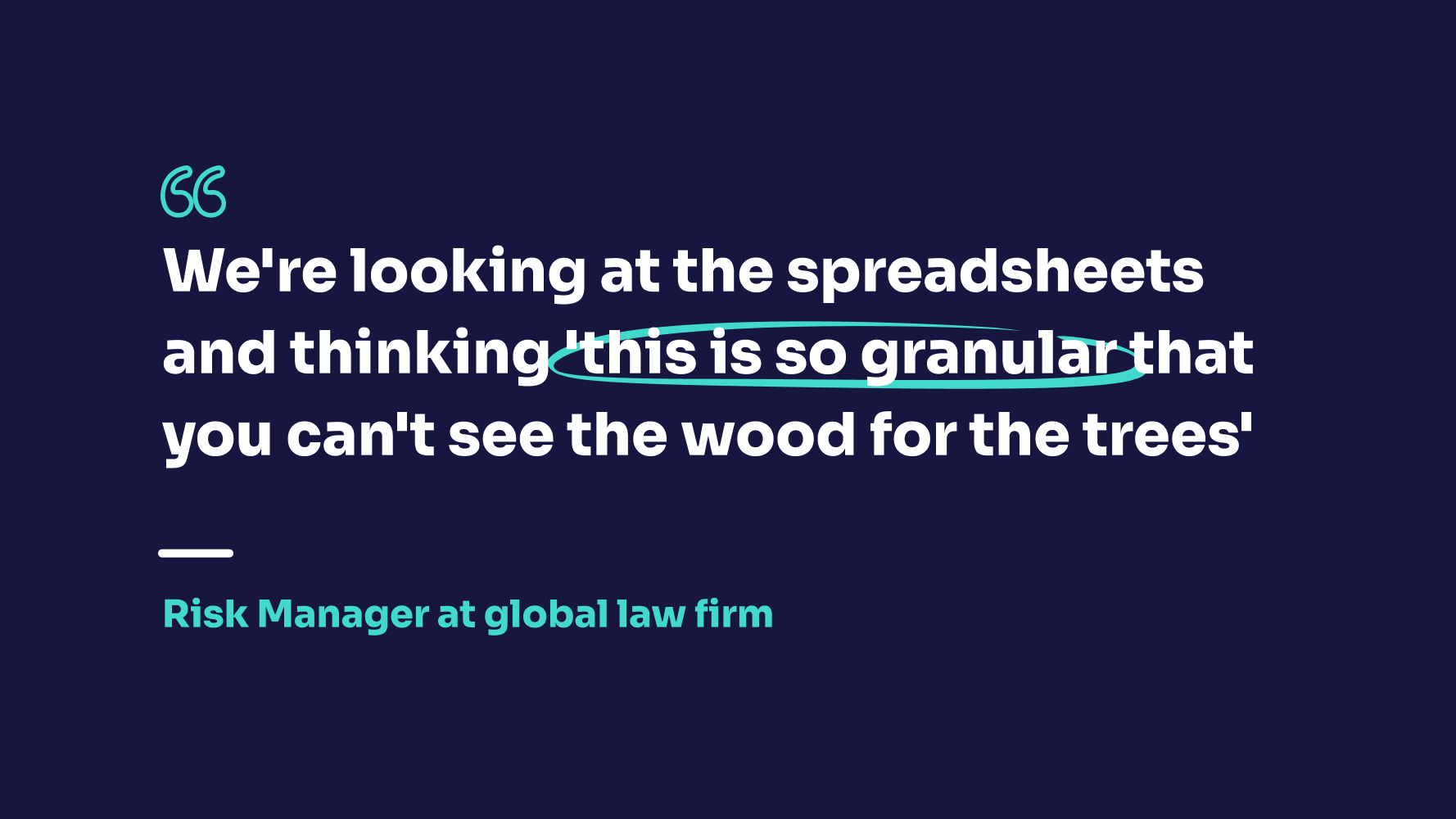 Let's say you're a small to medium-sized enterprise (SME) looking to start taking risk seriously. You first need to think about generic risks, as well as those unique to your business. Creating a risk library from scratch is time-consuming stuff.
It easily leads to situations where experienced risk professionals spend more time acting as developers – guardians of the spreadsheet – rather than managing the risks they're fretting over.
Instead, risk management software often comes with a pre-built risk library that can be tailored to your needs. If you're just starting your risk journey, this can get you up on that first rung of the ladder.
Spreadsheets might do the job, but risk management can't be complacent
A lot of feedback we hear about spreadsheets isn't that they're the devil incarnate, but rather that they're just … fine.
They do the job. Y'know, the job of listing out your risks.
But there's a good chance one of the following problems rings true if you're a long-time user of Excel for risk management:
There's often more than one sheet on the go at once, meaning you're wasting time tracking down the right information. This means crucial risk information is siloed or just inaccessible.
Spreadsheet privacy is often poorly managed. You either need to jump through hoops to get in or there's an open-door policy where everyone's an editor. Both scenarios make us shudder.
Errors happen. Not always critical, but they're there. Rising to the surface every once in a while. And it's mostly issues with formulas or misplaced decimal points, owing to human error.
Want to know the good part? You guessed it: these issues are a thing of the past with enterprise risk management software.
Risk dashboards act as a single source of truth for all things risk and compliance, meaning you'll always know where to find what you need.
And while RiskSmart has no user fees, access can still be managed so only the correct people can access what they need.
Risk management isn't a free-for-all, you know.
2. You're wanting to level up your risk culture
A common reason we hear for moving over to enterprise risk management software is that businesses are looking to level up their risk culture. After all, 56% of business leaders started investing more heavily in risk culture in 2022.
This can look different depending on size, sector, and a bunch of other reasons, but it often includes some of the following:
Embedding risk management into business-wide decision making.
Ensuring that risk and compliance teams are known and their role is understood.
Involving staff of all levels and professions in risk reporting.
Establishing expectations or targets for risk management processes.
Guaranteeing senior leadership understand and champion risk management.
Risk management software can help here for two reasons.
Firstly, risk management software removes guesswork through data-driven insights and reporting.
For risk to truly be considered at every stage of a company's growth, decision-makers and stakeholders need data to influence their choices.
This can take several forms, such as quantifiable risk scores to inform appetite boundaries, push alerts/notifications to reduce micromanagement of risks, or the ability to divide risks based on their tiers.
If you want to know more about this first reason, check out our thoughts on why data is crucial to effective risk management.
Secondly, with the right piece of enterprise risk management software, risk can be understood by anyone.
It's a profession known for its endless jargon – not to mention the unsightly UI of legacy systems or difficulty navigating chaotic spreadsheets.
But everyone understands a pie chart. A score from 1-100. Alerts telling you that action is needed.
By keeping risk simple, risk management software can help to level up your risk culture and ensure that it's easily understood from top to bottom.
What are others saying about risk culture?
We bang on about risk culture because we know it's important - and that enterprise risk management software can contribute towards a thriving risk culture.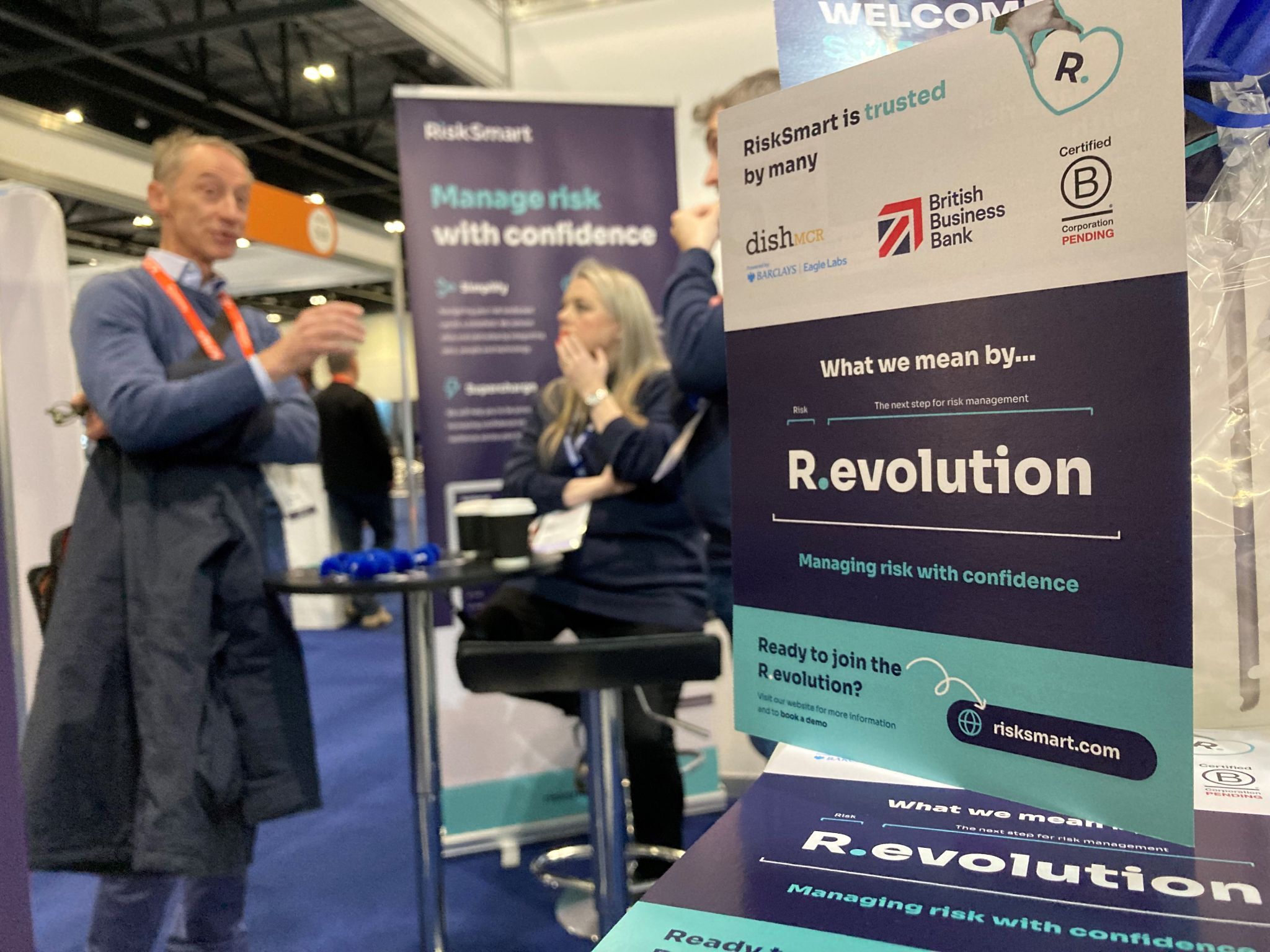 But here's what some other thought leaders had to say at #RISK 2022 (where we hand a nice stand, as seen above):
"There's a difference between risk management awareness and understanding" – Tony Strickley, Radius Payment Solutions Ltd.
"Full engagement from the C-suite is absolutely imperative" – Peter McCready, Wealth Wizards.
"Risk culture is anchored in the values of the organisation" – Hiran Patel, Booking Holdings.
This lot know the importance of risk culture – and having the right risk management software will keep you in their good books.
We imagine.
3. You've become more risk mature
Risk culture forms part of risk maturity, which refers loosely to the measure indicating a business's risk position or value gained from risk management.
A lot of this is about measurements and accountability: are risk management processes repeatable? Sustainable? Able to be tracked and improved upon?
No matter how risk-mature your business is, there's a place for risk management software.
It can inform early-stage risk maturity by providing an initial risk library or simply putting numbers to ideas.
Or it might be that, due to a change in leadership or strategy, there are requirements for more mature reporting. You might need to start assigning risk ownership, for example.
This can be done fuss-free in most enterprise risk management software by assigning risk owners or tagging risks as you see fit.
A lot of risk management deals with abstracts too, such as your risk appetite or overall progress. There aren't always easily-defined metrics to assign to concepts like this, especially when dealing with legacy tech or spreadsheets.

As shown in the graphic above, there's no wrong time to adopt enterprise risk management software. From pre-seed startups to global firms, there's value to be found in taking risk more seriously.
And the best bit? It's self-replicating.
If you decide it's time to invest in risk management software because your risk maturity has increased, your risk maturity will only increase further with your new kit.
Pretty good, right?
4. Your current risk management software isn't cutting it
Maybe you already have a tech solution.
It's not unlikely, given that the market is expected to reach a value of a whopping $35.01bn by 2029.
But what if it isn't the dream that was sold to you?
We hear it all the time from risk teams. Their current risk management software is:
Overpriced. There's no need to pay 6 figures for a system that's essentially a glorified spreadsheet.
Full of hidden costs. Teams we know are ignoring their software and returning to spreadsheets because of user fees/licensing fees that make it less accessible.
Rigid. Risk management shouldn't be reactive, but it should be agile. You want your turning circle to be that of a jet ski, not an oil tanker.
Lacking support. In 2022, 23% of digital technology users experienced customer failure. Larger software often offers a one size fits all model with no options for a tailored solution.
Make no mistake, the majority of risk management software is great – it's just about finding a solution that suits your budget, risk maturity level, and culture.
It's not a choice between software or simplicity
It's worth noting that another common complaint of some risk management software is that it's overcomplicated.
Businesses have been known to experience whiplash when migrating from the simplicity of spreadsheets to a system with endless bolt-ons and modules.
Choosing the right enterprise risk management software for your risk maturity is vital.
You don't always need all the bells and whistles – just a go-to hub with a bit more data on the side.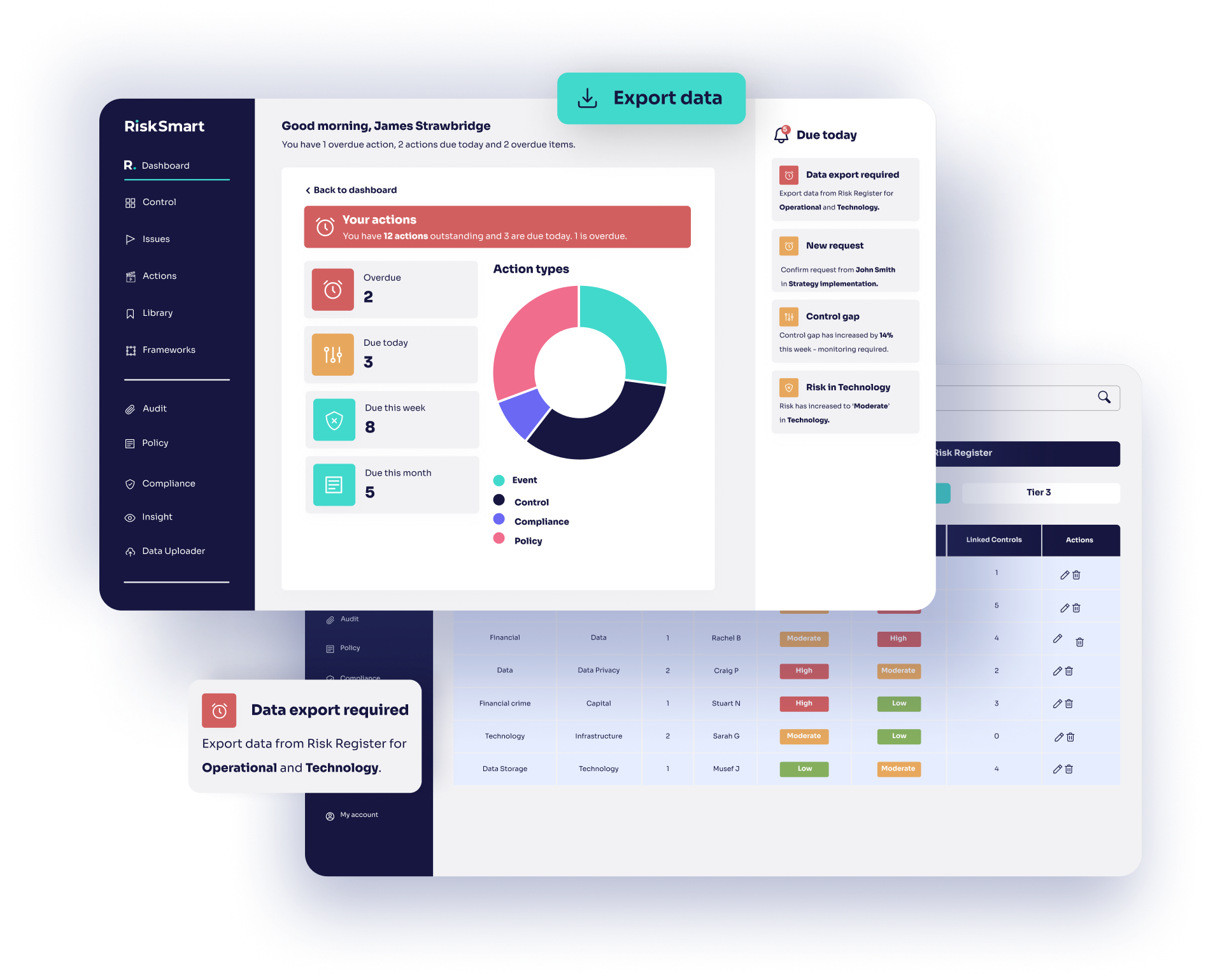 If that rings true, have a browse at RiskSmart's functionality as an example of software that champions simplicity.
5. Your risk landscape is getting more complex
It's rough out there.
We don't need to tell you everything that's been happening these last few years. You've heard it enough.
One of the few upsides is that risk managers are becoming recognised more and more for their hard work. Running a growing business without a killer risk team is like going for a drive with a blindfold on.
And this applies to the internal as well as the external. It might not be that your business is impacted by macroeconomic changes, but rather that your business is growing at a rate that requires change.
More policies. More. More measurements. More challenges. Admin is the shadow of success.
There's no more crucial time to remain compliant and on top of risks than during times of business-wide growth.
And the best antidote for complexity? Simplicity, of course.
The best enterprise risk management software takes the manual processes out of the job, allowing you more time to strategise and work with the C-suite to decide your business's best course of action.
For more on this, we recently spoke about why risk management software is vital in an economic crisis.
6. You're low on time
We'd all like more time. Maybe it's time to make a risk library for our personal lives.
But few have roles as all-encompassing as risk and compliance professionals.
From cyber-attacks to climate change and back again, it's no wonder you're always rushing from A to B without any consideration as to why.
GRC teams in need of enterprise risk management software are likely wasting time doing the following:
Micromanaging risks to make sure they remain within appetite.
Spending more time monitoring risk libraries/indexes/spreadsheets than the risks themselves.
Chasing loose ends and doing admin work that stands between them and effective risk management.
And, crucially, being low on time creates risks in itself.
When risk management becomes routine – reduced to simply spotting patterns and doing things by the numbers – you begin to lose opportunities. Miss warning signs. Stunt growth.
This is where risk management software comes in handy. You don't need to waste time doing admin work or making sure your spreadsheets haven't been ruined by Mike down the hall (grrrr, Mike).
Let a system do all the hard work: notifications, alerts, no loose threads, and all in a package far prettier than Excel.
It's about resources, too
Time's the real kicker, but it's not the only resource you might be low on.
Money is the obvious one. It's the main reason why businesses don't already have risk management software. That's why it's important you find a platform that suits your budget.
You might also be short on people.
Enterprise risk management software isn't designed to replace risk and compliance professionals, but rather make their jobs easier and more fulfilling.
That being said, having a system by your side is a helpful tool for ensuring small (even one-person) risk teams thrive.
7. You're looking to keep compliant
Wrapping up with a biggie.
It's easy to think that regulatory fines are only for the huge players in the industry.
While it's true that the wider your reach, the more likely you are to become non-compliant, that doesn't mean compliance isn't critical for SMEs.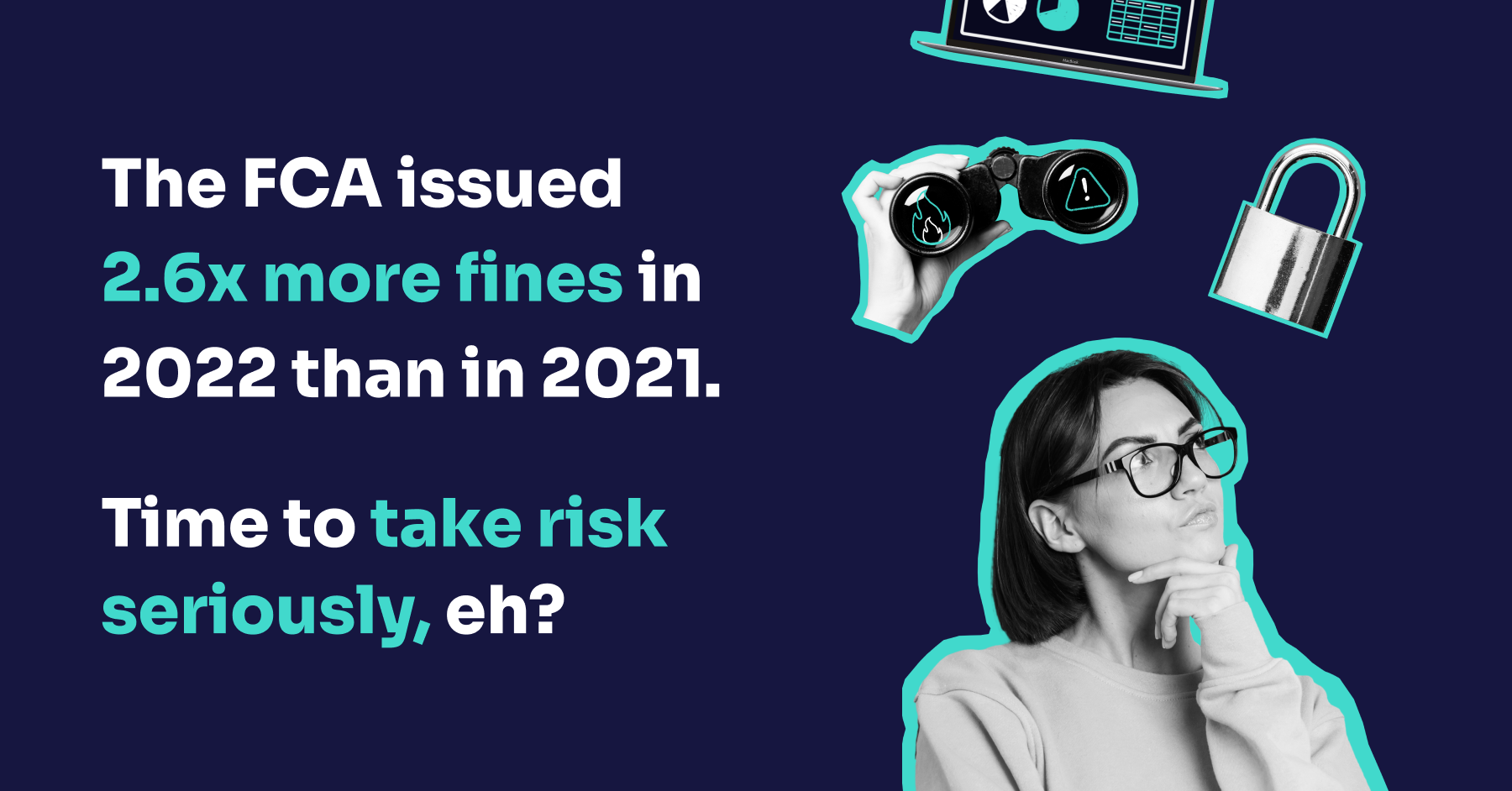 In fact, the Financial Conduct Authority (FCA) issued 2.6x more fines in 2022 than in 2021. Pocket change for some, but enough to bankrupt most businesses several times over.
By helping you keep on top of risk with more efficiency, enterprise risk management software can be a brilliant tool by your side when regulators come knocking.
So what's the best risk management software?
Choosing the right risk management software depends on factors like budget, requirements, and risk maturity.
At RiskSmart, we know that small to medium-sized enterprises (SMEs) have been left out of the conversation for too long. That's why we offer simple risk management software that understands the balance between advanced tech and accessibility.
The platform comes packed with:
A centralised hub for all things risk, so you don't have to waste time chasing down colleagues or information.
A customisable risk library, so you can kickstart your risk management journey or tailor your existing processes.
Push notifications for appetite changes, so you can work on value-added tasks instead of micromanaging individual risks.
Quantifiable risk scores, so you can easily see which areas of the business need addressing and which can afford to be riskier.
AI-powered insights, so your business and workflow can remain forward-facing and free of guesswork.
We speak to risk professionals every single day who are looking to move to risk management software.
While spreadsheets serve a purpose, businesses often don't realise there's a better solution out there. Or, if they do, that it can be so affordable.
If you're looking to take your risk management to the next level, have a closer look around the RiskSmart platform.